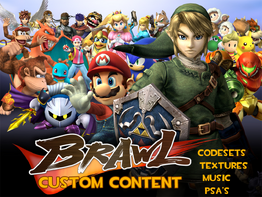 Welcome to Brawl Custom Content!

[

]
SSBB Custom Content is the collaboration of all things hacking SSBB. The wiki format allows anyone to create or edit any article, so we can all work together to create and organize a comprehensive database for textures, music, PSA's, and so on for the Super Smash Bros community.
Introduction and Rules
[
]
First off, welcome to the wiki! If you are here to contribute, then more power to you! However, a few ground rules.

Make sure you update your User profile. Your user profile is located here. Use this as your hub for your own textures, music, and so on.
DISABLE Rich Text Editing in your Preferences for it is completely useless.
When uploading a texture, make the page start with your username, then the name of the texture. That leaves it far more organized. Use this as an example: User:Daakun/Pleinair.
Considering how many overlapping possibilities there are for custom content, don't remove previous content if it does not belong to you, including thumbnails in the pages. We are trying to be open to as many contributors as possible, and removing content goes against this.
If you are planning on linking to download files, most prefer MediaFire for its no-waiting download links, fast download speeds, and folder storage.
Make sure you mention who created any content, for the sake of organization.
Any contribution would be more than welcomed! This Wiki is strictly for the sake of keeping everything organized so people like yourselves can find what they want as soon as they want.